< Back to News Archive
Press Release

134 (Bedford) Squadron
Air Training Corps
Shortstown
Bedford
MK42 0TH

3rd Jul 2016
Dropping In With The RAF Falcons
10 Bedford Air Cadets had the chance to sit and chat with the RAF Falcon Parachute display team over a curry at the JITG Chicksands Annual Formal Reception.
134 (Bedford) Air Cadets have a long standing commitment to assist JITG Chicksands with this important Annual Event where the station treats important guests to a thank you to the local community.
After the cadets assisted with directing VIP cars, they formed a guard of honour for the invited guests as they entered the grounds of The Priory.
The RAF Falcons flew over and performed a "low show" which allows them to perform an impressive parachute display despite the low cloud cover. In this display they formed a 'canopy stack' with the members having seconds to carefully arrange themselves in a column.
Shortly after the Falcons had landed a Spitfire performed a flypast, passing over the heads of the guests four times.< /p>
The final function performed by the cadets was for Cadet Kieren Allgar (17yrs) and Cadet Phoebe White (14 yrs) to lower the union flag during the sunset ceremony to the sound of the bugler of the Queen's Division band. This was promptly followed by a powerful rendition of the national anthem performed by the Countess of Wessex' string orchestra.
Once their duties were over, the cadets went into The Priory where they were given the chance to sit down for a meal and meet the RAF Falcons. The team members happily answered the cadet's questions, offered RAF Careers advice and offered to pose with the cadets for a photo.
RSM WO1 Neal Harrison, Regimental Sergeant Major of the Intelligence Corps was extremelypleased with the performance of the Squadron at the event describing them as "Awesome".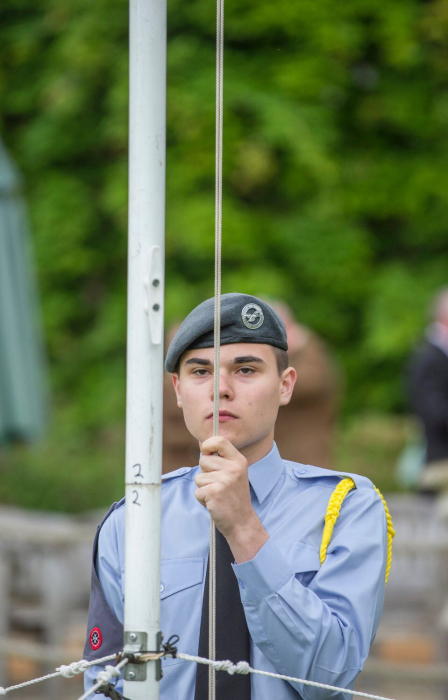 Cadet Oliver Prosser (14 yrs) said afterwards This was the second year I have attended this event, I now look forward to it each year. This was easily the best one so far.