< Back to News Archive
Press Release

134 (Bedford) Squadron
Air Training Corps
Shortstown
Bedford
MK42 0TH
8th December 2014
Best Of The Best At Bedford Squadron
Bedford Air Cadets were recognised for their achievements in front of their proud parents and invited guests during the 2014 Squadron Awards Ceremony. The annual event was held last week at the Defence Intelligence and Security Centre (DISC) at Chicksands in Bedfordshire.

The first half of the evening saw the cadets take to the stage to give presentations to the 150 strong audience, reflecting on what the Squadron has achieved over the past 12 months.

After a short interval the cadets nervously assembled so that the awards and trophies could be presented.

Every year the Squadron staff have a tough task in choosing the best of the best. After much deliberation over the preceding weeks they were finally able to reveal the winning cadets for each award.

Cdt Rhys Barton receiving the Sports Trophy from Wg Cdr Bower, RAF VR (T)

The best recruit from 2014 was awarded to Cdt John Baldwin, who it was felt had performed at a consistently high standard throughout the year. He joined the Squadron with a mature and level-headed approach to all activities and had supported the Squadron on most events.

A new trophy was also unveiled - the first new trophy in 10 years. The Squadron Citizenship Award, which is to be presented to a cadet who has given back to the community outside of the Squadron. Cdt Allgar was the deserving winner of this award. He had attended the Shortstown litter pick earlier in the year as well as a recent cleanup we held at the Cardington cemetery. We have also had positive compliments fed back to the Squadron staff from members of the public about his polite and helpful nature. This award was presented by Bedford Borough Mayor Dave Hodgson.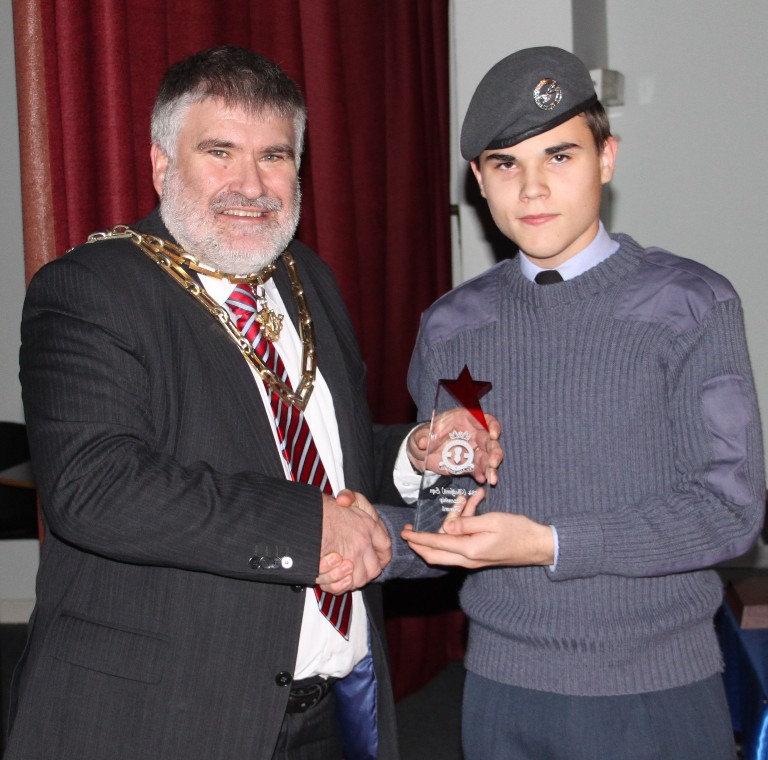 Cdt Kieran Allgar being presented the Citizenship Award by Bedford Mayor Dave Hodgson

FS Robert Goates was awarded the Academic Trophy for not only achieving the highest academic qualification – Master Air Cadet, but also gaining his BTEC in Aviation Studies. He also qualified for his Instructor Cadet Lanyard through assessment of his instructional techniques and gained the highest score on the unit in the Master Cadet Assessment.

Two Commanding Officers Commendations were presented to Cadet Jordan Assi and CWO Jonathon Bell who had separately helped out in different medical emergencies in the past year. Cdt Assi for encountering a lady that was unconscious in a car park at a cadet event and raising the alarm before assisting her. And CWO Bell who was first on scene of a road traffic accident recently and called the emergency services and provided assistance.

The Squadron Cadet of the Year was presented to Cpl Levi Jack. He has undertaken a vast selection of activities, encompassing flying, shooting, adventure training, various wing and Squadron Camps, first aid, radio communication training, drill and Fieldcraft training. He shows incredible commitment to the Squadron, boasting the best attendance on the unit and regularly arriving early on parade nights to assist for the night ahead.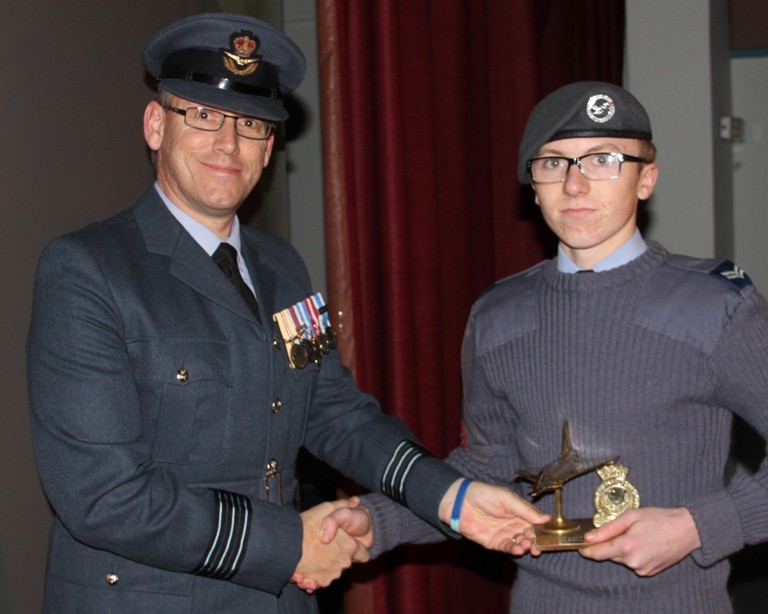 Cpl Levi Jack being presented the Cadet of the Year by Wg Cdr Smith, Station Commander RAF Henlow

Flt Lt Lyndsay McGregor said of Cpl Jack "Over the last 12 months, I have watched him develop into a mature, responsible, trustworthy and dependable cadet. He has challenged himself by undertaking activities to broaden and expand his experiences, driving and developing himself into a more rounded individual."

The full list of award winners is as follows:
Best New Recruit - Cdt Baldwin
Leadership Award - Sgt Turpin
Citizenship Award - Cdt Allgar
Marksmanship Award - Cpl Jack
Sports Trophy - Cdt Barton
Academic Shield - FS Goates
CO Shield - CWO Bell
CO's Commendation - CWO Bell
CO's Commendation - Cdt Assi
Cadet of the Year - Cpl Jack