< Back to News Archive
Press Release

134 (Bedford) Squadron
Air Training Corps
Shortstown
Bedford
MK42 0TH

9th Sep 2014
Train Away
Cadets and staff from 134 (Bedford) Squadron were joined by 3 Cadets from 2331 (St Ives) Squadron on their annual "Operation Invicta", An Adventure Training camp held at Napier Barracks, Folkestone over the August bank holiday.
The camp, designed by FS Tye to further develop some of the cadets core skills, incorporated a packed weekend training programme with leadership tasks, map reading, shooting, room inspections, a night exercise but also time for a trip to the beach.
For some of the cadets this was their first time away with the Squadron and it certainly seems it won't be the last. One of the new experiences for some was having to use sheets and blankets to make up their beds, complete with hospital corners for the daily round of room inspections conducted by the SNCO team.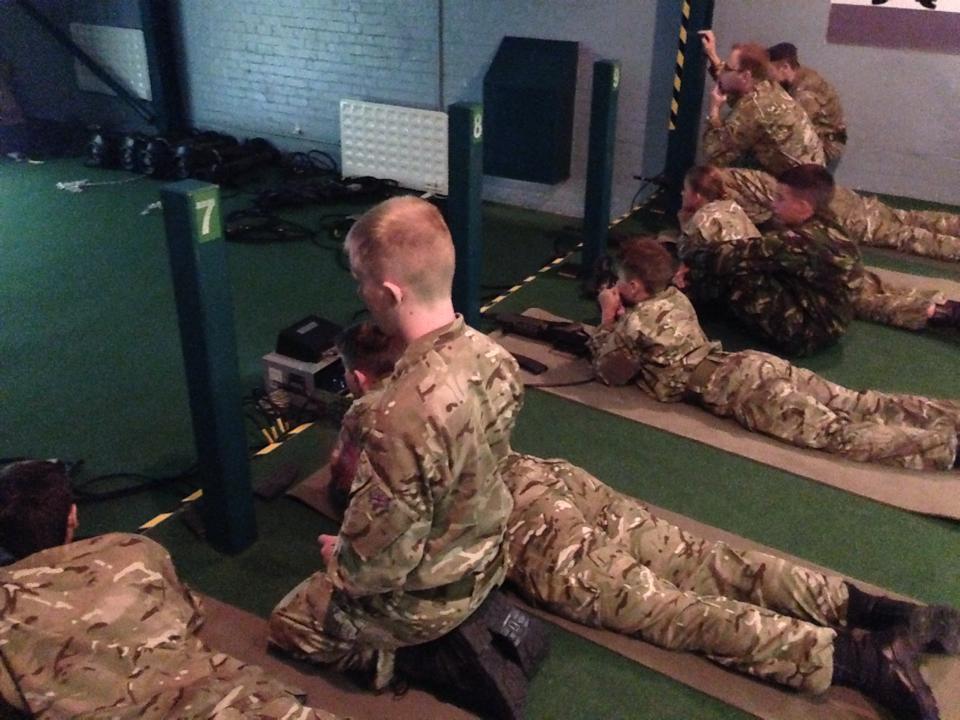 Shooting was seen as one of the highlights of the weekend and the cadets travelled down the coast to Lydd Camp where they spent time using the Dismounted Close Combat Training Range (DCCT). With the assistance of the advanced computer diagnostics available to the range staff, the cadets were able to hone their individual marksmanship skills.
Saturday evening saw the cadets out on the night exercise named Operation Voyager which included several different elements. The Cadets split into two flights had to use navigation, radio communications, diplomacy, investigation and field craft skills. Rather than sleeping "in the field" the Cadets slept in a house in the middle of the training area which bought a new element to the exercise. The next morning the Cadets were woken up by the smell of a full English breakfast in the field.
To conclude the weekend the cadets spent Sunday afternoon on the beach at Hythe enjoying a well deserved rest in the sun whilst eating ice cream. After an actioned-packed weekend the Cadets opted for lights out at around 9pm.
The weekend tested the cadets both physically and mentally and it was evident to the accompanying staff that all those who participated thoroughly enjoyed themselves. When the staff asked the Cadets who would come again everyone's hands sharply went up. The Cadets said this camp was one of the best camps they have ever been on, even our guest Cadets from 2331 Sqn agreed.
Cadet Flight Sergeant Oliver Mathews from 2331 (St Ives) Squadron said: "Awesome, absolutely awesome and thank you for inviting us to your camp and I hope we get to work together again next year."
Cadet Jordan Assi from 134 (Bedford) Squadron said: " I love going on Squadron camps, I feel really challenged and rewarded by the end of it. I cannot wait for another one."
Flight Sergeant James Tye who coordinated the weekend said, "We had a great weekend that saw our cadets give their best in everything. I'm really pleased with the feedback from the cadets. I am sure they will all cherish the memories of their experiences for some time to come."