< Back to News Archive
Press Release

134 (Bedford) Squadron
Air Training Corps
Shortstown
Bedford
MK42 0TH

17th Apr 2014
Cadets Bag It For FAB
Bedford Air Cadets spent three days of their Easter holiday packing shopping bags for customers at Morrisons in Bedford. The money raised was split between a charity that provides activity breaks for bereaved military families as well to buy much-needed adventure training equipment for the cadets.
Earlier in the year the cadets chose Families' Activity Breaks (FAB) as the Squadron's nominated charity for 2014. FAB is a non-public funded charity that works in partnership with the Youth Hostel Association, providing fun and challenging activity camps around the UK for bereaved military families.
One third of the money raised, £300, will be presented to FAB later in the year along with money raised at other planned events. The Squadron aims to raise £1000 for FAB this year.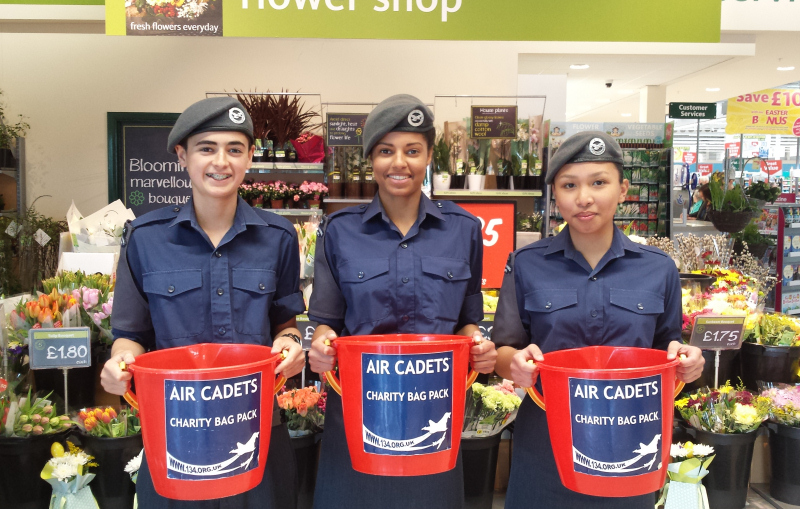 The remaining money, £575, will be spent on equipment such as tents and sleeping bags to allow the cadets to take part in more activities through the year.
Cadet Ben Mann, 14yrs, said, "It was good to be raising money to help families who have lost loved ones serving in our armed forces. I hope that the money we have raised will help them feel a little better."
Thanks must go to the kind generosity of the Bedford Morrisons customers and to all of the staff for their hospitality and especially Linda Brown, Morrison's Community Officer, for helping to facilitate the event for us.