< Back to News Archive
Press Release

134 (Bedford) Squadron
Air Training Corps
Shortstown
Bedford
MK42 0TH

8th Dec 2013
A Royal Appointment
Being one of the four Lord Lieutenant's Cadets for Bedfordshire carries many important responsibilities. For Cadet Warrant Officer Jonathon Bell, these were certainly put to the test when he spent a day accompanying His Royal Highness Prince of Wales as he toured various venues in Bedfordshire on Tuesday 3rd December 2013.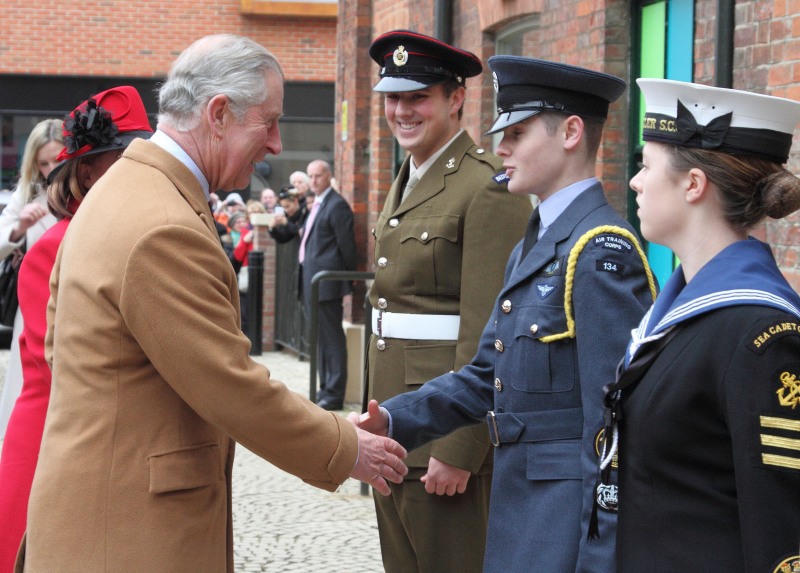 For Jonathon, the day commenced in Bedford Town Centre where Prince Charles, having flown into Russell Park by helicopter, visited the Higgins Museum, St Pauls Church and conducted a walk about where he was greeted by enthusiastic crowds. Throughout these activities, Jonathon closely accompanied the Royal Party, providing support to the Lord-Lieutenant, Mrs Helen Nellis.
Having formerly met the Prince, Jonathon joined in a Service of Dedication and unveiling of a memorial to honour the women agents who flew out of RAF Tempsford, to aid resistance movements in occupied Europe, during the Second World War.
This part of the Royal visit received huge media attention and unsurprisingly that evening, Jonathon could be seen, in the background, on the 6 o'clock National News, saluting as the Prince unveiled the memorial.
For Jonathon, this was not his first exposure to the BBC, as only a week before he had been interviewed live on BBC Breakfast TV, when the show covered the opening of the Monarch Airlines new Engineering Hanger at Birmingham Airport. Jonathon, a third year Monarch Apprentice Aircraft Engineer, spoke positively about his training with the company since leaving school.
The Royal Tour continued to Jordan's Mill, in Mid Bedfordshire, where the Prince toured the historical flour mill and met local business leaders before departing in his helicopter from Biggleswade Football Club.
Behind the scenes, Jonathon was able to talk to the Police Protection Officers guarding the Prince about the roles they undertake and training required to fulfil their duties.
Jonathon, 18 years, is a member of 134 (Bedford) Squadron and has been in post as the first Lord Lieutenant's Air Cadet since May and has attended many civic functions and parades in the County.
Following what was a very busy day Jonathon said, "Well, who would have thought that after 6 years in the Air Cadets, I would spend the day escorting the future King of England around Bedfordshire. It really was a day to remember and I really enjoyed the responsibilities I was given."